N8330 Series Ultra-high Accuracy Multi-channel Battery Simulator
N8330 is a programmable battery simulator with low-power, multi-channel and high-accuracy, supporting Max. 24 channels. Users can set the voltage and current for each channel by programming software, which is flexible, easy to operate and can meet the needs of multi-channel, multi-parameter and complex test environments. Each channel is isolated, which is convenient for series connection. N8330 software supports multi-channel batch operation. Data and curve for each channel can also be displayed. At the same time, data analysis and report functions are supported.

Data Sheet

User Manual

Product Video

Inquiry
■ Voltage range: 0-5V/0-6V
■ Current range: 0-1A/0-2A/0-3A
■ Output accuracy up to 0.01%
■ Single device with up to 24 channels
■ Each channel isolated
■ Voltage temperature coefficient less than 4PPM/℃
■ Professional test software, supporting data analysis and data report
■ Support LAN and RS485 interface
■ Standard 19-inch 2U, available for cabinet installation
Ultra-high integration, single device with up to 24 channels
N8330/N8331 series adopts a standard 19-inch 2U, with Max. 24 channels in a single device. Each channel is isolated. One device can support 24-station test simultaneously, which greatly reduces the test equipment quantity and improves test efficiency.

Ultra-high accuracy, supporting static power consumption and protection parameter test
N8330/N8331 series is with high accuracy and resolution. The voltage resolution is as low as 50uV, and current resolution as low as 0.1uA. In standby mode, there is still uA-level current existing in electronic component. This condition requires the test instrument with current resolution of at least 1uA. Meanwhile, the protection parameters test of charging board also has extremely high demand on the test instrument accuracy. For example, the overcharge protection test requires emulating voltage accuracy of the battery cell as low as mV-level.

Inter-channel series-parallel connection available to simulate working condition of battery pack
When multiple strings of battery cells are required, the simulator can support serial and parallel connection coexisting. The series connection supports Max. 480 battery cells simulation. Users can perform remote control and other automatic test applications on the application software.
Programmable sequence function to simulate various curves
N8330/N8331 series supports up to 24 channels in a single device. Users can set the voltage and current limit for each channel on the application software interface, control the output voltage rise and fall, and set inter-channel synchronous starting. The advantage of low output noise is the true DC characteristic of the battery cell without ripple. When the dynamic load varies, it can promptly provide a stable DC output and reduce the surge voltage damage to the DUT. For non-static products or test applications , N8330/N8331 series can supply a stable DC voltage timely.
N8330/N8331 series battery simulators provide high-speed programming and emulate various load current waveform identical to actual condition. The load variation time is less than 3mS.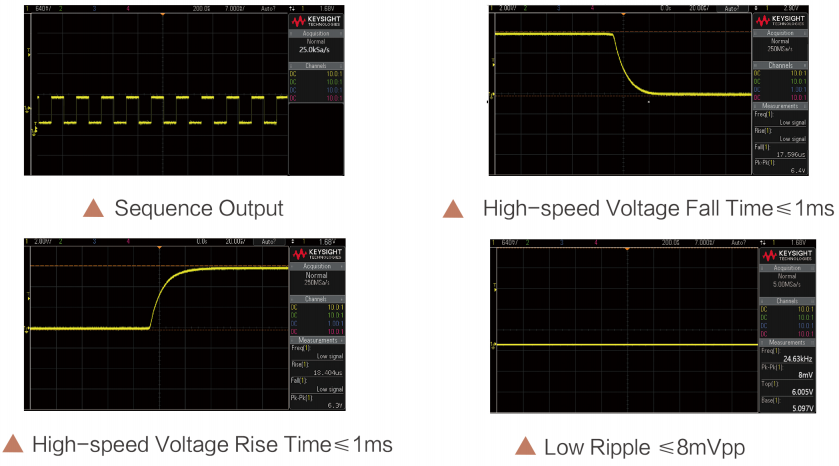 Four-wire sense to ensure measurement accuracy
To ensure accurate voltage supply to the DUT, N8330/N8331 adopts four-wire system connection, that is, two wires are used for output voltage, and the other two wires used for measuring the DUT voltage directly. The voltage loss caused by the lead resistance from power supply to the DUT can be eliminated by the measurement line at the SENSE terminal.
Convenient PC application software
The application software adopts a platform design, which allows users to customize the test process based on process requirements. The software provides data search, data import & export, Excel report function, etc. Office-like interface style, independent display of each channel, supporting voltage and current waveform drawing, and result display in tabular form make this professional software multifunctional and useful.

Application -BMS Test
System Introduction
BMS (battery management system) is a device used to perform safety monitoring and effective management of battery packs, and improve battery service efficiency. For electric vehicles, BMS can effectively control the charging and discharging of the battery pack, which can increase the endurance mileage, extend the service life, reduce the operating cost, and ensure the safety and reliability of power battery pack. Power battery management system has become one of the essential core components of electric vehicles. In order to ensure that the BMS can operate properly, a comprehensive test of the BMS is required.
System Architecture
NGI BMS test platform adopts the modular design. It consists of a high-accuracy battery simulator, temperature simulation unit, charge & discharge current simulation unit, high voltage power supply, IO detection unit, insulation detection unit, BMS signal and switch detection unit, CAN communication unit, software control system, etc. The system can provide customization on Li-on battery strings according to customers' needs and generate data reports. The system is highly integrated, convenient and efficient, supporting expansion and upgrade.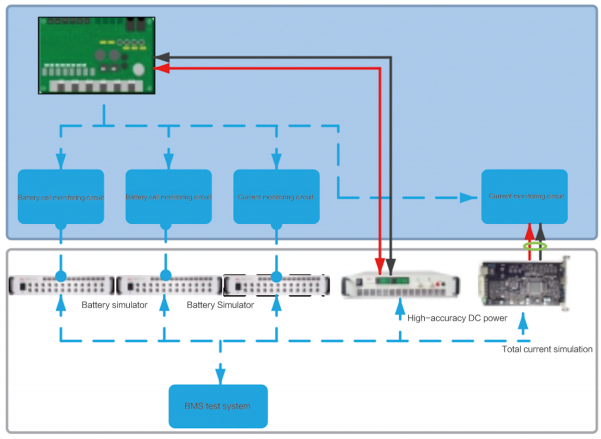 Test Items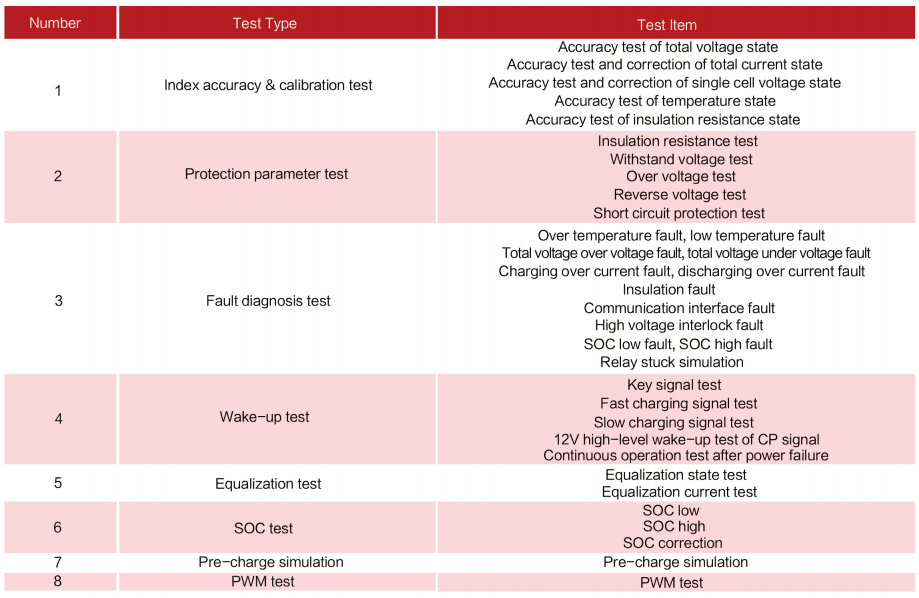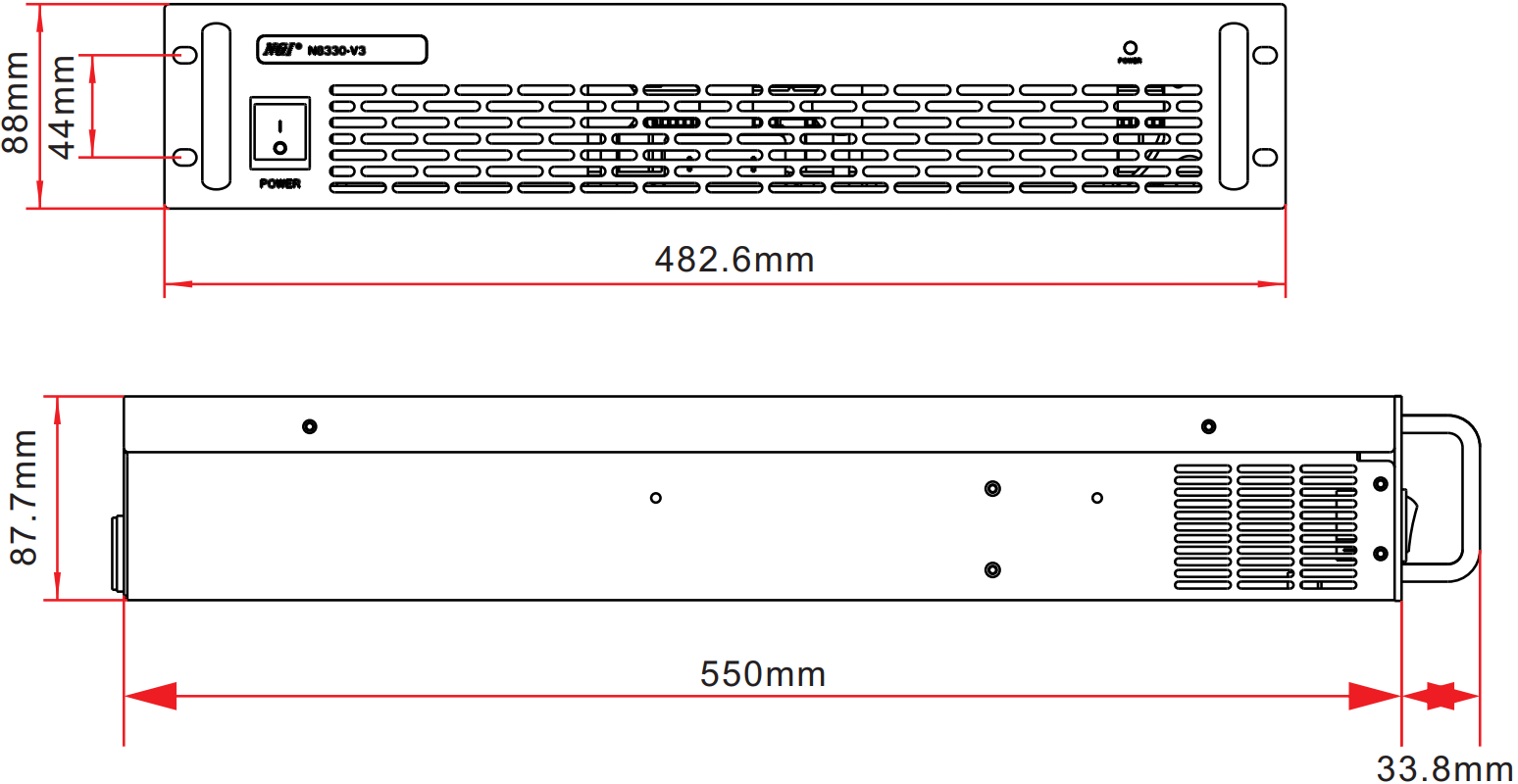 Standard & Optional Accessories