N8330D/E Ultra-high Accuracy Multi-channel Battery Simulator
N8330D/E is a programmable battery simulator with low-power, multi-channel and high-accuracy, supporting Max. 4 channels. Users can set the voltage and current for each channel by programming software, which is flexible, easy to operate and can meet the needs of multi-channel, multi-parameter and complex test environments. Each channel is isolated, which is convenient for series connection. N8330D/E software supports multi-channel batch operation. Data and curve for each channel can also be displayed. At the same time, data analysis and report functions are supported.

Data Sheet

User Manual

Product Video

Inquiry
■ Voltage range: 0-4V
■ Current range: 0-10A/20A
■ Output accuracy up to 0.05%
■ Single device with up to 4 channels
■ Each channel isolated
■ Voltage temperature coefficient less than 25PPM/℃
■ Professional test software, supporting data analysis and data report
■ Support LAN and RS485 interface
■ Standard 19-inch 2U, available for cabinet installation
Ultra-high accuracy
N8330D/E output accuracy can be up to 0.05%. Ultra-high accuracy, ultra-low ripple and noise index make N8330D/E an ideal selection for battery simulation application. The ultra-high accuracy of N8330D/E output and measurement can be directly used in product calibration and testing, eliminating the use of external high-accuracy measuring instruments and saving high cost for users.
Ultra-high integration
N8330D/E integrates up to 4 power channels that can be connected in series mode in 19-inch 2U size, providing a compact solution for ATE test systems in BMS, CMS and similar large-scale high-density production sites. Compared with traditional power supply and battery simulator products, N8330D/E can save up to 80% space and greatly simplify system wiring.
■ BMS (Battery Management System), CMS (Ultra-capacitor Management System) Test

■ Consumer Electronics R&D and production, such as mobiles, tablets, notebooks, toys, etc.

■ Electrical tools manufacturing test
■ Other battery-operated products manufacturing test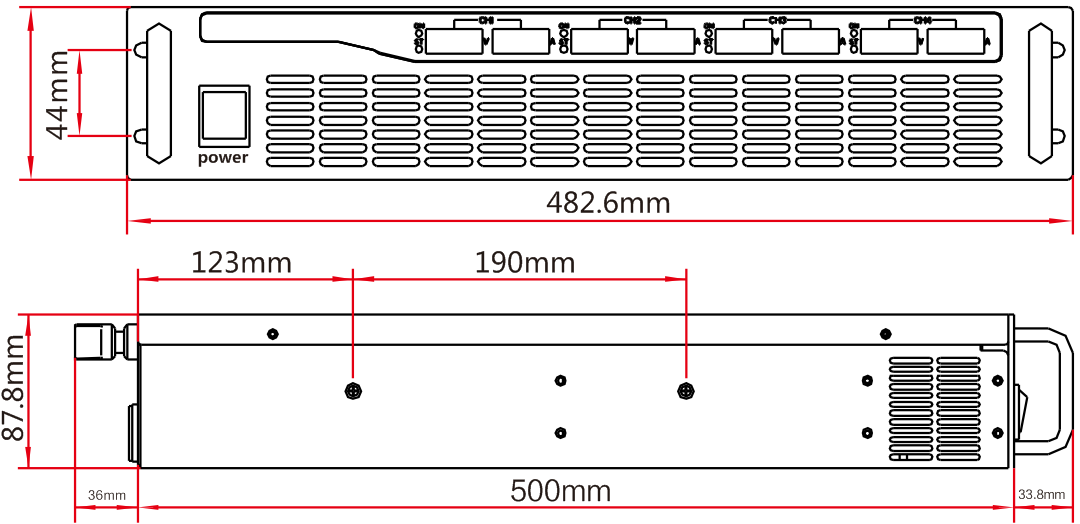 Standard & Optional Accessories