N3300 Series High Power Programmable DC Power Supply
N3300 series is developed based on NGI's years of experience in testing for electric vehicles/motors, battery/supercapacitor packs, BMS, CMS, solar inverters, DC/DC converters, consumer electronics,etc. According to different test environments in the fields of lab test, system integration test, and mass production line, NGI has made a number of optimization designs based on the international advanced technology. N3300 series is with high-power, high-current, low ripple noise, high cost-effective and full-featured.

Data Sheet

User Manual

Product Video

Inquiry
■ 5kW/10kW/15kW high power density chassis design
■ Support cascade of multiple devices, Max. 150kW
■ Standard voltage: 60V/150V/300V/450V/600V/800V/1000V
■ Multiple protections: OCP, OVP, UVP, OTP, OPP, reverse polarity and monitoring mode
■ High power density, minimizing space occupation
■ CV mode / CP mode
■ Programmable sequence test function(SEQ), up to 100 groups sequence files, up to 100 steps per file
■ Editable rise/fall slew rate
■ Remote sense
■ Power-off memory function
■ Big LCD screen for information display
■ Intelligent fan control with ultra-low noise to offer comfort
■ Built-in auto test function, one-button operation for complex test tasks
■ Analog programming interface(APG), current monitoring interface, remote trigger function to realize complex function control and monitoring
■ Support SCPI command communication and programming Driverlib
■ Support LAN and RS232 interface
■ Standard 19-inch 3U, available for cabinet installation
Operation Mode
The operation mode includes CV and CP mode.
Master/slave design, more convenient for power expansion
N3300 can be used independently or in master/slave parallel operation. It has built-in master/slave mode, and the Max. power can be expanded to 75kW. It adopts a unique current sharing design to ensure each module shares the load equally and ensure the consistency of product use.
External Interfaces
N3300 provides a number of external interfaces, including voltage/current monitoring output, voltage/current setting input, power control input signal, and four TTL output signals, etc. The standard communication interfaces are LAN and RS232.
Voltage Rise and Fall Waveform
Voltage & Current Monitoring
The voltage/current monitoring output terminals output 0-reference voltage, corresponding to 0-full scale. An electric meter or oscilloscope can be connected externally to monitor the voltage/current variation.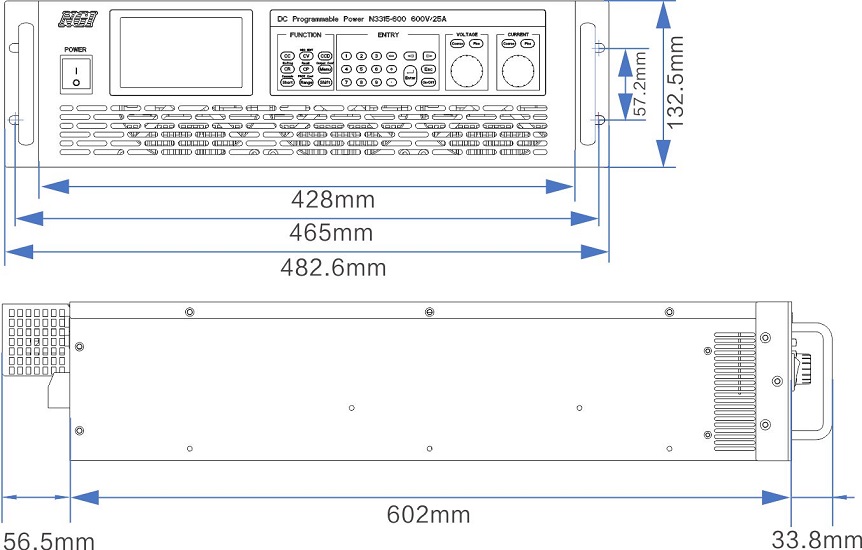 Standard & Optional Accessories