N6140 Series Four-channel Multifunctional DC Electronic Load
N6140 series is developed based on NGI's years of experience in testing for power supply and battery. It is with high accuracy, high reliability, high integration, high cost-effective and full features in CC, CV, CP, and CR. N6140 series is tailored for integrated applications, featuring easy integration and high stability. In most integrated applications, N6140 series can replace low-power standalone electronic loads and save much cost for users.
N6140 series is specifically designed for embedded integrated applications, with 19-inch 2U/3U size and LAN port, and providing drive program. It supports secondary development of most software, such as Visual C ++, C #, Delphi, Visual Basic, Labview, etc. Users can customize the application software as needed.

Data Sheet

User Manual

Product Video

Inquiry
■ Power range: 60W/180W/360W/540W
■ Voltage range: 0-20V/0-60V/0-150V/0-600V
■ Current range: 0-5A/0-15A/0-30A/0-60A/0-90A
■ Operation mode: CC、CV、CP、CR、CCD
■ Von/Voff setting
■ Dynamic frequency sweep (Optional)
■ Load effect test(Optional)
■ Short-circuit simulation
■ Milliohm meter function(Optional)
■ Voltage ripple measurement(Optional)
■ Time measurement(Optional)
■ Convenient OCP/OVP/OPP test(Optional)
■ High-speed LAN port
■ Multiple protection: OCP/OVP/OPP/OTP
■ Each channel isolated
■ High reliability, long MTBF(mean time between failure)
■ Standard 19-inch 2U, available for cabinet installation
Dynamic frequency sweep
Dynamic frequency sweep is similar to transient mode, repeatedly switching between two parameters. The duration of each parameter is determined by the sweep frequency and duty ratio. It increases from the initial sweep frequency to the cut-off frequency. The frequency increment and frequency point sweep duration are settable. During the sweep, the input voltage is accompanied by a current transient, which causes overshoot and drop. With the functions of voltage ripple and peak-to-peak measurement, various dynamic parameters and corresponding frequencies can be obtained.
Voltage ripple measurement
By adjusting the voltage and current signals, the peak-to-peak value of the ripple and the effective value can be calculated according to the actual needs via professional algorithm. Combined with the waveform export function, various parameters such as the ripple frequency component can be further analyzed.
Time measurement
Within the predetermined load conditions and parameter ranges, N6140 will record the time point of two triggers by setting two values or some event (such as Vmax) as the trigger source. N6140 will then calculate the interval between two triggers.
Powerful automatic test
The automatic test can rapidly obtain various parameters. No manual intervention is required after the test procedures and parameters are set in advance. In this way, the efficiency of the production line can be greatly improved and large-scale automation integration can be achieved.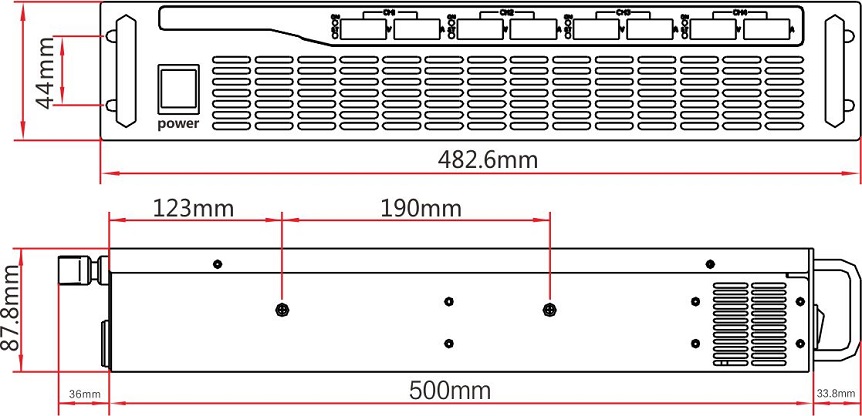 Standard & Optional Accessories