N8358 Series High-accuracy Multi-channel Programmable Battery Simulator
N8358 is a programmable battery simulator with low power, high accuracy and multi-channel. By adopting dual-quadrant design, the current can be charged and discharged, which can satisfy the needs of BMS test. N8358 standalone supports up to 8 channels, which can offer four-station test and meet the demands of ATE test in consumer electronics. The voltage and current limit of each channel can be set by programming software. N8358 software is flexible and easy to operate, which can meet demands of battery simulators in multi-channel, multi-parameter, and complex test environments. N8358 application software supports multi-channel batch operation. Data and curve for each channel can also be displayed. Meanwhile, data analysis and report function are supported.

Data Sheet

User Manual

Product Video

Inquiry
■ Voltage Range:0-5V/0-6V/0-15V
■ Current Range:-1~1A/-2~2A/-3~3A/-5~5A
■ High output accuracy, with remote sense
■ Single device up to 8 channels
■ Each channel isolated
■ Temperature coefficient less than 25PPM/℃
■ Professional software, supporting data analysis and data report
■ LAN port and RS232 interface
■ Standard 19 inch 2U, available for cabinet installation
■ Fault simulation: short circuit, open circuit, reverse polarity
Support Active/Passive Equalization Test
By adopting two-way design, current input and output directions of each channel can be respectively controlled. Users can customize the battery charge and discharge mode and perform real-time control via a PC, which fully meets the requirements of BMS active equalization test.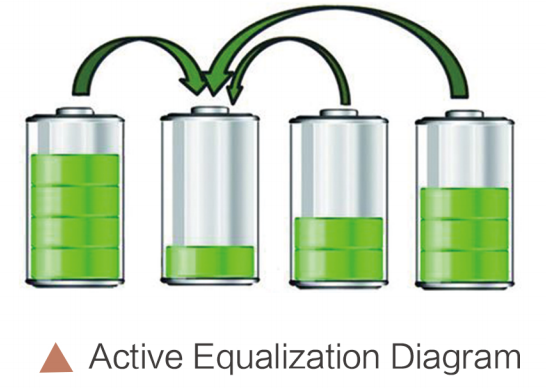 Ultra-high accuracy, supporting static power consumption test
N8358 has high current accuracy up to 1uA. By supplying power to the DUT through N8358, the static power consumption of the DUT in standby mode can be intuitively tested. The unqualified products are screened out to ensure that the product standby time is within the rated range after delivery.

Ultra-high integration, built-in fault simulation
N8358 integrates 8 independent channels in 19-inch 2U size. Each channel has built-in positive & negative polarity short circuit, open circuit, and reverse polarity. Users can control directly via a PC. The application of N8358 can eliminate use of external component for battery fault simulation, which can save cost and space for users.
Application-ATE Test
Advantages
N8358 standalone has 8 channels with each channel controlled independently. Each channel can be used for current input or output. In ATE (Automatic Test Equipment) test system for consumer electronics such as smart phones, Bluetooth headsets, etc., the single production line often uses four stations. During the test, four channels are used as power supply to provide high-accuracy and stable power output. The left four channels are used as battery simulators. Paired channels simulate various operation conditions to check if they can meet the built-in curve requirements. N8358 standalone can be built into a four-station test system in a short time, which greatly improves the test efficiency and saves the investment.
Test Items
■ Charging current test ■ Protection parameter test
■ Static power consumption test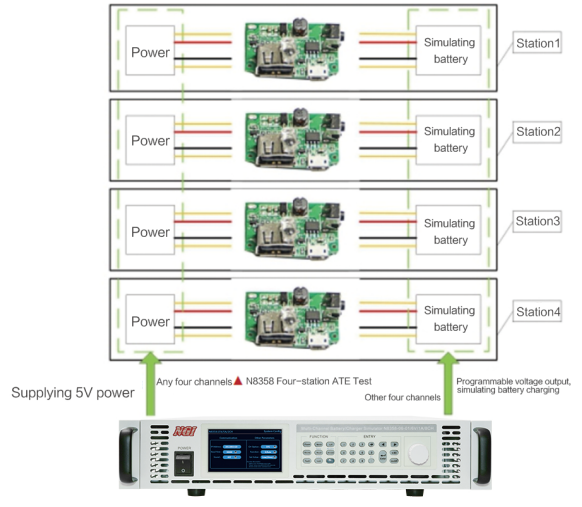 Application -BMS Test
Advantages
N8358 standalone can provide 8-channel battery cell simulation, with fast communication response and built-in fault simulation. Bidirectional current flow can be used to test BMS active equalization. The high-accuracy current acquisition enables N8358 to test the static power consumption of the BMS acquisition circuit. All these features make N8358 an ideal selection for BMS test.
Test Items
■ BMS battery cell voltage acquisition accuracy test
■ BMS battery protection parameter test
■ BMS battery equalization test
■ Static power consumption test of BMS acquisition circuit
■ BMS battery fault simulation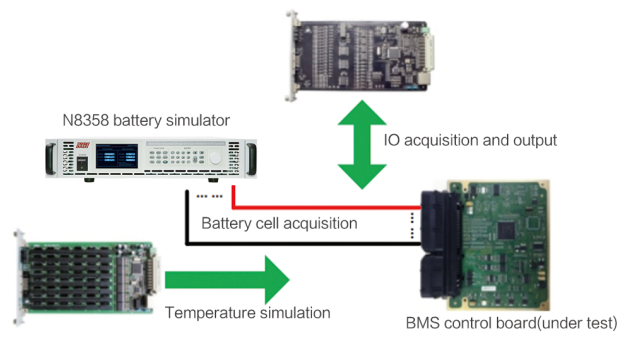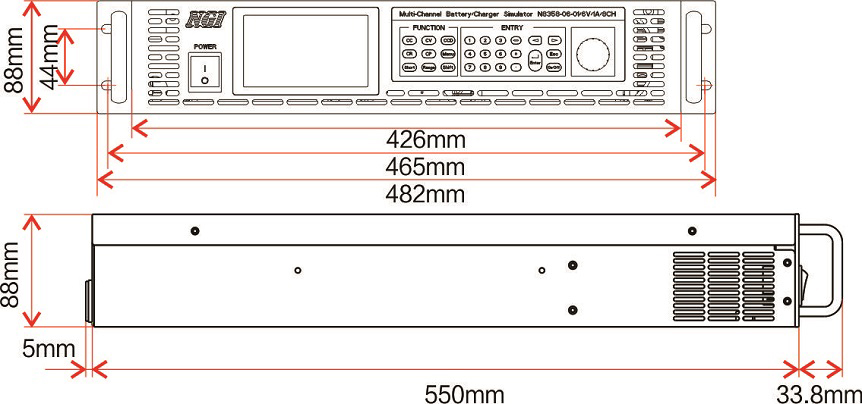 Standard & Optional Accessories