N3600 Series Wide Range High Voltage Programmable DC Power Supply
N3600 series is developed based on NGI's years of experience in testing for battery fluctuation simulation test, battery charger, high voltage diode, electrolytic capacitor, electromechanical control, ATE test system, etc. It is a high-voltage wide-range programmable DC power supply. According to different test environments in the fields of lab test, system integration test, and mass production line, NGI has made a number of optimization designs based on the international advanced technology. N3600 series is a market leader in similar products in terms of reliability, maintainability and safety.

Data Sheet

User Manual

Product Video

Inquiry
■ Voltage up to 1000V
■ Different models available in high voltage or high current
■ Equipped with LCD screen, numeric buttons and knob to support local operation
■ Output control via ON/OFF button
■ Safety terminals
■ Support SEQ function, editable waveform of voltage & current variation
■ Remote sense
■ Intelligent fan control with ultra-low noise to offer comfort
■ Built-in RS232/LAN communication interface
■ Standard 19-inch 2U, available for benchtop or cabinet installation
SEQ Function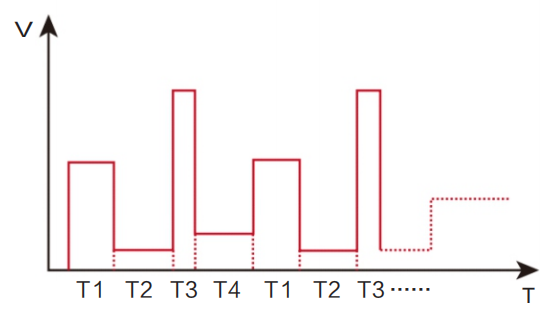 Voltage up to 1000V, making high voltage test more secure
N3600 series supports up to 1000V. In the fields of LED, battery, DC/DC converter and other industries, high voltage is the basic need for power supplies. Besides the above mentioned industries, N3600 series can also be applied for special tests with extremely high voltage requirements. The safety of high-voltage test has always been a concern of engineers. NGI puts emphasis on details like the safety terminals design to ensure the safety of the test.
Wide range for saving purchase cost
N3600 series' Max. power is not the result of Max. voltage multiplied by the Max. current. Take model N3630-240-060 for example. The Max. power is 3kW while the Max. voltage 240V and Max. current 60A. The single model can replace two devices or more common power supplies.
■ Battery fluctuation simulation test

■ Battery charger

■ High voltage ultra-high speed diode

■ Electrolytic capacitor

■ Electromechanical control and ATE test system

Standard & Optional Accessories