N39200 Series High-accuracy Dual-channel Programmable DC Power Supply
N39200 series is a high-accuracy & dual-channel programmable DC power supply, available for benchtop use. N39200 standalone supports 2 channels output, with each channel isolated. Both local operation on front panel and remote control on a computer are supported. N39200 can be widely used in lab test, system integration test, production aging line, etc.

Data Sheet

User Manual

Product Video

Inquiry
■ Voltage range: 60V/150V
■
High definition touch screen
■
Current range: 4A/8A/10A/20A
■
User-friendly interface
■
Power range: 200W/400W/600W
■
LAN port and RS232 interface
■
CC&CV priority function
■
Multiple protections: OVP, OCP, OTP and short circuit
■
Single device with 2 channels, each channel isolated
Dual channels, compact size and light weight
N39200 series adopts 2U and half 19 inch design, with 2 channels in a single device. Each channel is isolated. One device can support 2-station test simultaneously, which simplifies the test platform and improves test efficiency.
UI flat icons
UI flat icons offer convenient and quick operation.
Virtual keypad
N39200 is designed with a virtual keypad for parameters
input.
SEQ mode
SEQ mode allows setting of output voltage, output current and dwell time for single step.
Cascade mode for power expansion
N39200 supports two channels parallel mode internally. Under parallel mode, the output voltage remains the same. The output current and power will be doubled.
CC&CV priority function

N39200 has the function of selecting priority of voltage-control loop or current-control loop, which enables N39200 to adopt the optimal test mode for different DUTs, and thus protect the DUT.
As shown in figure one, when the DUT requires reducing voltage overshoot during test, such as supplying power to a low-voltage processor or FPGA core, voltage prioritymode should be selected to obtain fast and smooth rise voltage.
As shown in figure two, when the DUT requires reducing current overshoot during test, or when the DUT is with low impedance, such as battery charging scenario, current priority mode should be selected to obtain fast and smooth rise current.
Dual LAN ports for multiple devices control
N39200 is equipped with two LAN ports, which can support multiple devices control for quick adjustment and test.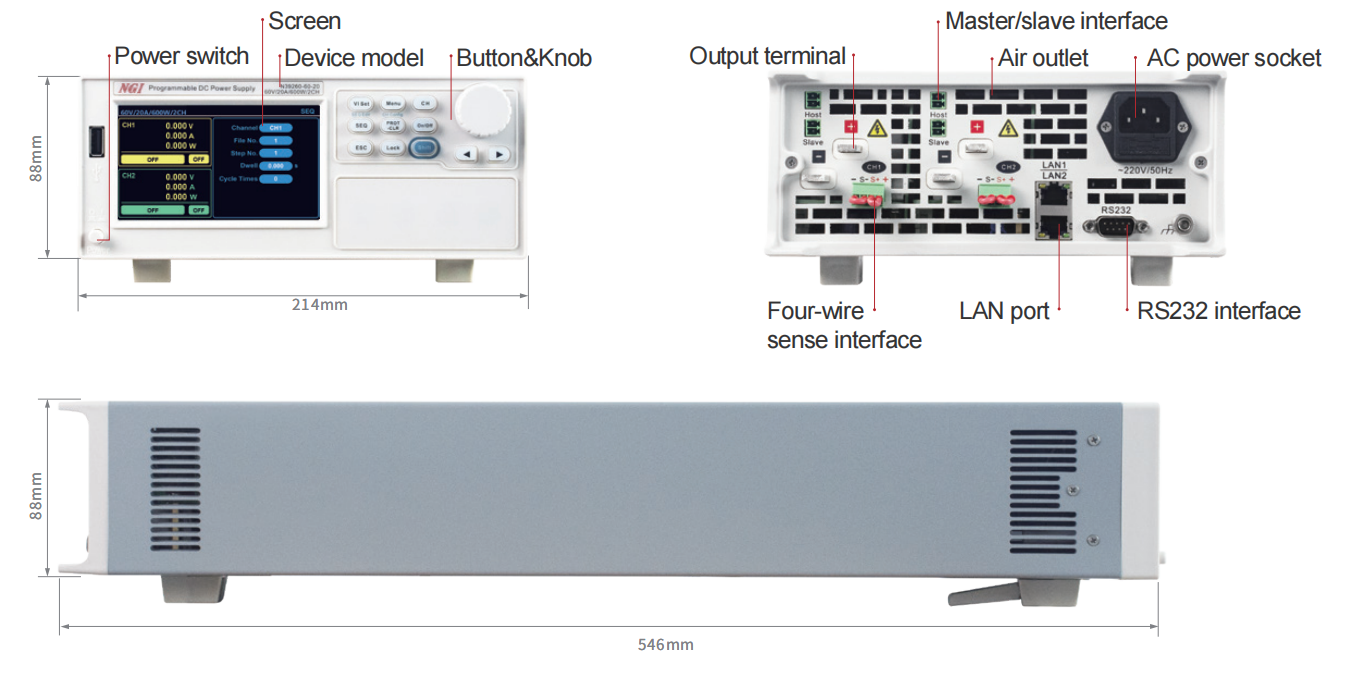 Standard & Optional Accessories