N3410 Series Triple-channel Programmable DC Power Supply
N3410 series is a triple-channel programmable DC power supply with high performance and high reliability. N3410 is
with half 19 inch 2U size, integrating three independent output channels, and supporting both front and rear wiring. It has
compact size and elegant appearance. N3410 supports both benchtop application with carrying handle and tilt stand,
and supports rack installation for system integration. Test and measurement information is displayed intuitively on the 4.3
inch LCD screen. It provides DVM measurement as an optional function to meet different test demands.

Data Sheet

User Manual

Product Video

Inquiry
■
Voltage range: 6V/32V/60V, supporting series connection to increase voltage
■
Current range: 3A/5A, supporting parallel connection to increase current
■
3 channels in a standalone, each channel isolated
■
High accuracy and resolution, as low as 0.1mV/0.1mA
1
■
Dynamic response time less than 1ms
■
Supporting series, parallel and trace output modes
■
High accuracy DVM measurement (for N3411P/N3412P/N3413P only)
■
Front and rear output terminals
■
LAN port and RS232 interface
■
Half 19 inch 2U size with tilt stand
■ 4.3 inch LCD screen, supporting screenshot via USB port
■ Sequence(SEQ) test function2
■ Graph for real-time output waveform display3
Remark 1: N3411E/N3412E/N3413E are with 10mV/1mA resolution.
Remark 2: SEQ is not available for N3411E/N3412E/N3413E.
Remark 3: Graph is not available for N3411E/N3412E/N3413E.
Front and rear wiring design
N3410 series supports both front and rear panel wiring. User can place N3410 on the bench top or integrate it on the rack, which brings a convenient experience.
High accuracy and low ripple
N3410 has excellent performance in output accuracy. It also has ultra-low ripple &noise. The ripple Vrms is less than 400μV, and Vp-p less than 5mV.

SEQ test function
N3410 series supports sequence edit. Users can set the output voltage, output current and single step running time. 100 groups of voltage and current sequences can be user-defined. Sequence files can also be imported through the USB type-A interface on front panel.
Series, parallel and trace output modes
N3410 series has three output modes: CH1/CH2 series, parallel and trace, which can be switched on the front panel, without external serial and parallel wiring, to meet the needs of different ranges and voltage output.
DVM measurement (for N3411P/N3412P/N3413P only)
N3411P/N3412P/N3413P have built-in one channel high-accuracy DVM to test external voltage, with range of -600V~+600V. It has three automatic ranges: ±600V/±60V/±6V, with measurement accuracy of 0.01% F.S., and measurement resolution of 5½ digit. The measurement data is refreshed on the HD screen in real time, which is convenient to observe the voltage variation.
Graph
Graph can be used to display the output waveform in real time. The waveform display content can be edited, such as
voltage-time, current-time, power-time, etc.
■
School laboratory
■
Production line inspection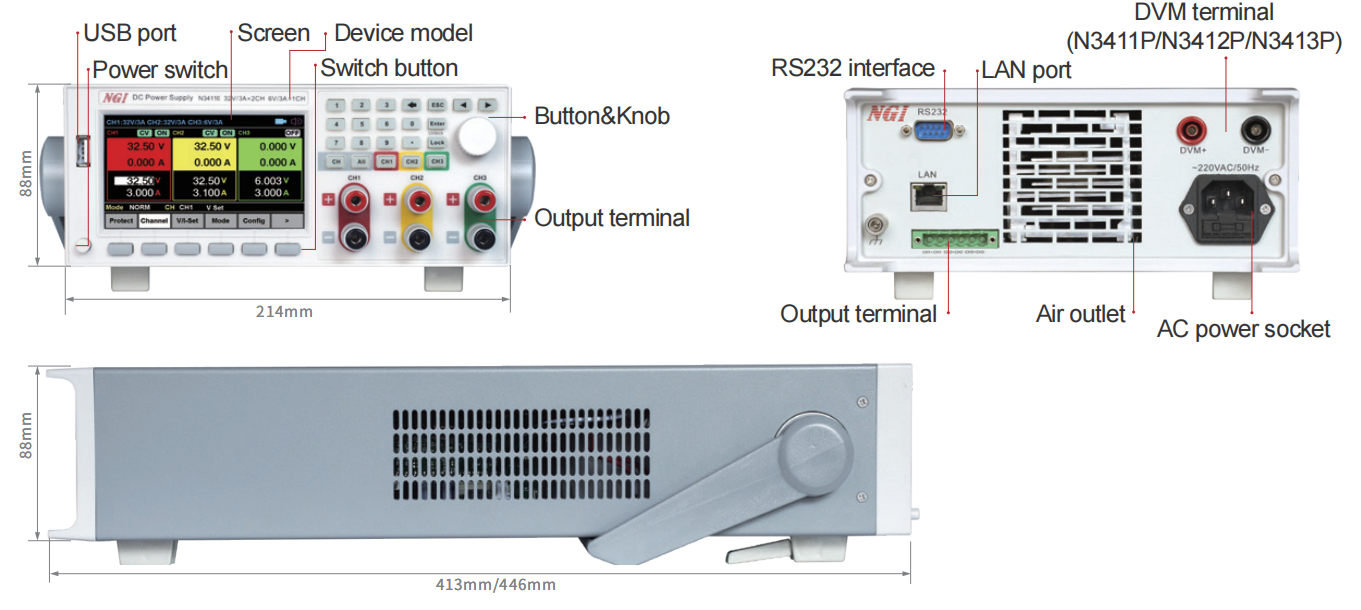 Standard & Optional Accessories